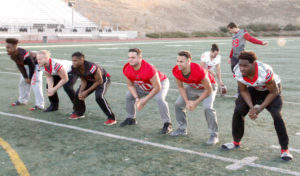 Athletes throughout California spent rigorous hours practicing, studying and training to perfect their game. Each year, the American Pacific Conference board members elect 44 scholastic football athletes to take home honors for their dedication and performance on the field.
This year, Pierce had 23 student athletes nominated for the American Pacific Conference football's first and second team all-conference honors. Of these nominations, 13 football players went home with honors.
"It's an honor to make it. I think they are very satisfied and pleased with those who made first and second team all-conference. Of course, you have some that were upset that they didn't make it, but unfortunately, not everybody can make it," said interim head coach James Sims.
Pierce is known for housing some outstanding freshman. Last year's freshman class was awarded five second team all-conference awards for their notable performance. The new bunch of freshmen finished this year with a higher honor, the first team all-conference.
The year prior, Pierce was nowhere to be found on the first team all-conference list. However, this year, a remarkable five freshman graced the highly anticipated accolade. Quarterback Jonathan Saavedra, tight end Travis Koontz, and wide receiver Wesly Touze were named to the first-team offense. Defensive end Eric Mateo and linebacker Blaze Allredge made the list on the other side of the ball.
Most players don't realize that their hard work is being looked at by a board of football experts and other coaches in the league. For the most part, the young men go in with the mentality that they are on the field to win games, while coaches, such as Sims, are more concerned about player development and transitions into higher level education.
Saavedra is a prime example of a player that selflessly played the sport of football. He helped carry his team to victories this season.
"It felt good to make first team all-conference. Obviously, football is a team sport, but it's good to get acknowledged individually," Saavedra said.
Justin Castell, safety, also made the first team all-conference, making him the only sophomore to receive the award. He said he has a few Division 1 offers on the table, but has yet to pick a school.
Several players were also named in the second team all-conference. Among those seven were lineman Daijon Mainor, wide receiver Joseph Branch, and running back Kyshawn Richards. For the defense, defensive lineman David Melo, linebacker Daniel Collins, cornerback Matt Demahy and punter John Pecaro received the honors.
"It feels amazing. I'm coming out of high school and coming to college being up on this type of level and making [second] team is a good accomplishment. I'm very blessed to make it," Richards said.
While Richards explains his personal triumph as a blessing, Sims describes it differently.
"This award shows that [the players] worked hard during the off-season and during season. It gives them a way to gage and measure how they performed against the other player's in the conference," Sims said.
Pierce Football ended their season with an overall record of 5-5. The collective effort helped the Brahmas finish strong with two consecutive wins against league contenders Santa Barbara City College and Antelope Valley College. Brahmas closed their record with three wins and two loses in the 2017 American Pacific Conference.
While the football season is over, sophomores anticipate heavy recruitment and freshman hit the weight room getting a head start to build the foundation, getting ready for next year's season.