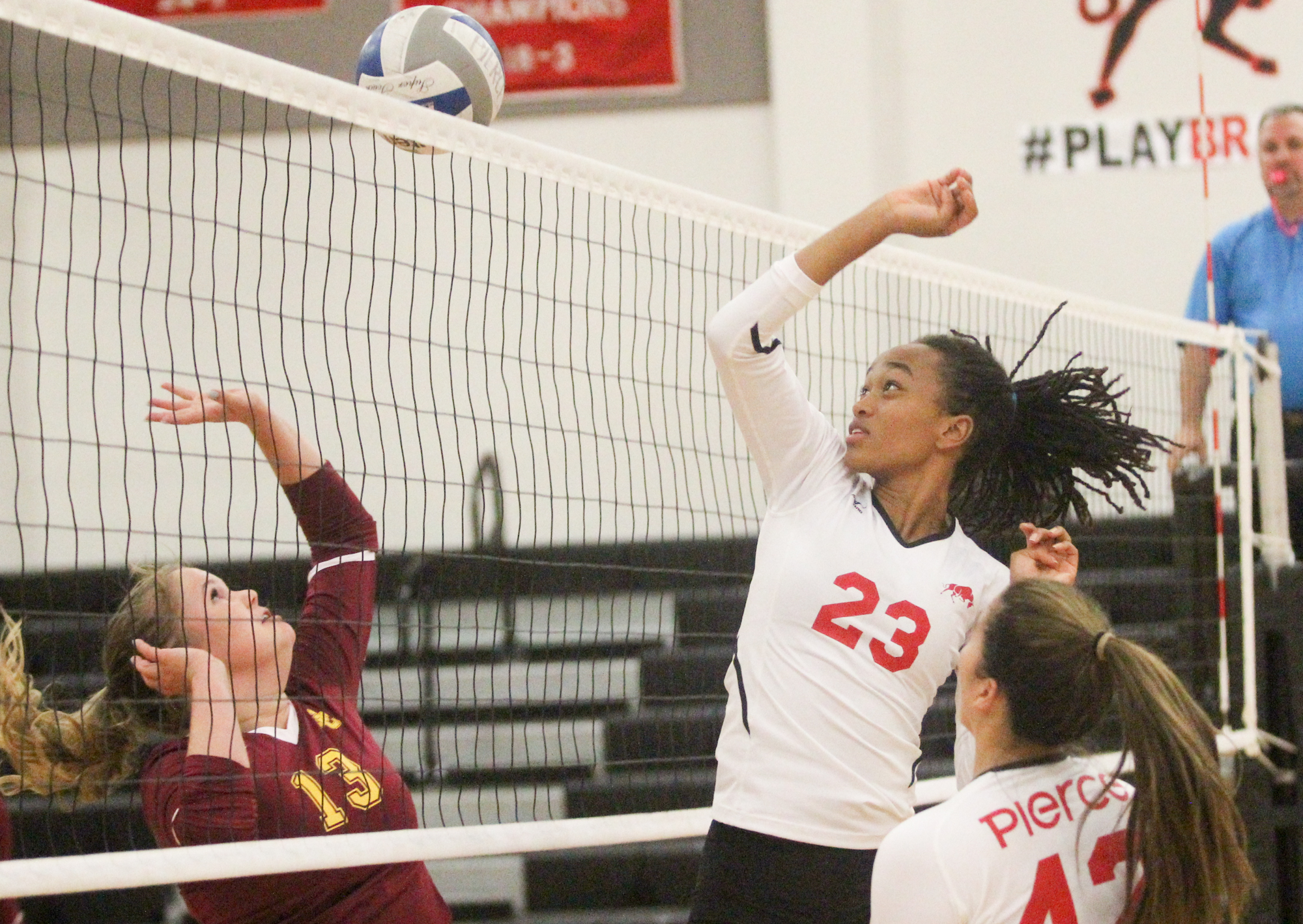 Volleyball went 1-1 last week, earning its first win of the season, coming back from two sets down to beat Glendale in five.
The team dropped the first two sets 25-21 and 25-22, but won the next three 25-17, 25-22 and 15-8.
Head Coach Edison Zhou said he was proud of the team for coming back against the Vaqueros.
"It was awesome. Before that game we had so many opportunities to win more games and sets this year, but we didn't and after this game the girls were happy. It was amazing game to have won in five sets. In the end we had a happy ending," Zhou said.
Catelynn Pulido had 31 kills, followed by Rachel Wiley with 28. Landry Bearden had 58 assists against the Vaqueros.
Pulido said after the win it gave the Brahmas a boost for the previous losses.
"I felt it would give us the confidence boost that we needed because for the games against Victor Valley and Santa Monica since we lost those sets by two or three points," Pulido said.
Zhou said that despite winning against Glendale the team struggled at the beginning of the game.
"In the two sets, we didn't play well and you cant win games like that. But after those two sets I told the girls that this was a great opportunity to win our first game," Zhou said. They changed the way they played and they got easy points so we end up winning the game."
Pulido said the team have to improve certain aspects in that game if they want to win more sets.
"Individual jobs could have been done better. Hitters could work on their swings. To come with different options and not just hit going in line each time. Rachel [Wiley] and I have been hitting in different spots and not just in one place," Pulido said.
Wiley said  the team goes into games with a winning mentality.
"It is always to win. You never expect to go into a game losing because if you do, than you will lose and I feel we got stronger and our priorities changed in the next three sets which was to fight harder," Wiley said.
In the game against the Bakersfield College, the Brahmas lost in straight sets to drop to 1-6 in the season.
Pulido led the team with 10 kills, followed by Wiley with nine.
Wiley also led the team with the same number of digs and Bearden led the Brahmas in assists with 13.
Zhou said that for the game against the Renegades they competed against a tough team.
"We actually played well. I don't think the two teams are on the same level. They are very good and I believe they might get the state championship," Zhou said.
Pulido said that it was a great opportunity to play against the Renegades.
"To play a very energetic team like Bakersfield to let us know as a recap what we have to improve on and to never settle for less," Pulido said. "Overall they were more skilled because they are more experienced."
Wiley said that against the Renegades they performed well but needed to work on their execution.
"Hopefully we can see them next year and take a set," Wiley said.
The Brahmas have two home games against Santa Barbara City College on Oct. 24 and two days later versus the Santa Monica College Corsairs. Both games start at 6 p.m.