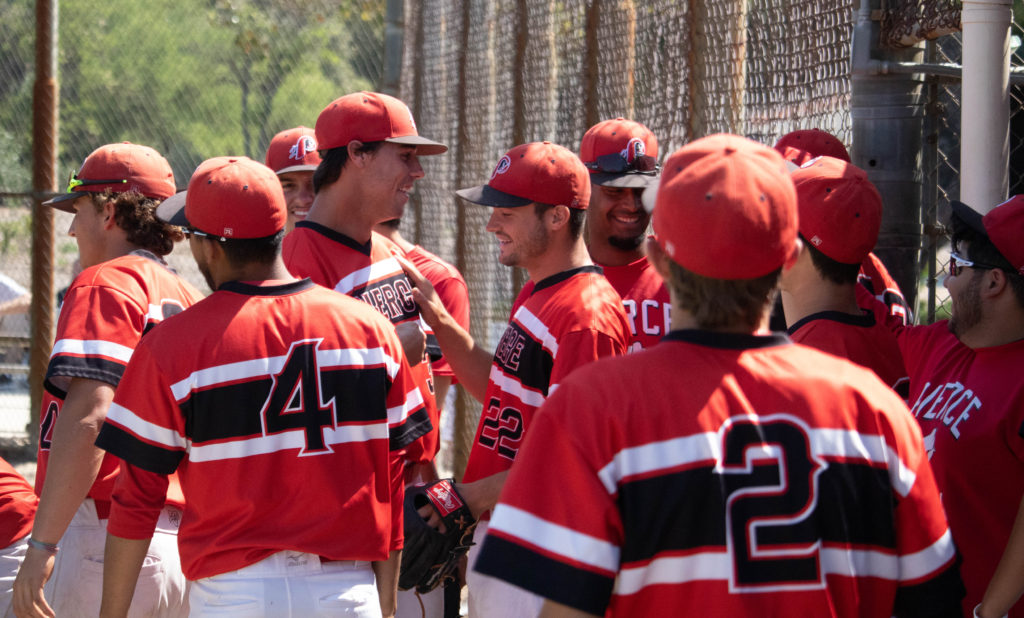 Reported by Gina Wong and Abdul Ali.
Brahmas baseball played their last game of the season on Friday, April 26, and while the score didn't go their way, it was still a positive experience for the players.
The game was called "sophomore day" and every sophomore made an appearance, even if it meant doing something different than normal, according to Head Coach Bill Picketts.
"When the game doesn't mean a whole lot as far as us getting into the playoffs, I try to put them out in situations where you can kind of honor them a little bit and have some fun with them," Picketts said. "I played some guys that normally don't play because it's their last game. The players took it in stride and everybody got a chance to play and had a good time."
Pitcher Barrett Vonderau talked about how it felt to play out of position at second base for the first time since middle school and what it meant to be able to play in sophomore day.
"I was out there and I looked lost but I battled through and batted second highest on the team," Vonderau said. "Overall it was a fun environment, a lot of us worked hard for two years, grinded it out and It's been a long season, but we stuck through it, tried our best and it kind of a rewarding type feel to it and it was fun. This is baseball."
Vonderau alluded to the emotion behind playing his final game for the Brahmas.
"It was kind of emotional. I'm going to miss this coach and the bonds we made here as a team and knowing this is the last time we'll play on the same field with this group of guys," Vonderau said. "And it's kind of sad, but at the same time we know we're all moving onto a better place and we're going to continue our baseball career."
Johnathan Kennedy a sophomore pitcher, enjoyed the idea of sophomore day.
"All the sophomores basically got to play today in no matter what their position was, if they were a pitcher they were going to hit today," Kennedy said. "It was definitely a fun and everyone was a relaxed instead of, locked in like a regular season or playoff game."
Kennedy was also pleased with how Pierce has helped him grow and is now excited for the future.
"It's definitely great because I got a lot better here and I progressed here and it's just another step in the right direction," Kennedy said.
For pitcher Johnathan Lavallee, sophomore day was about having fun and letting loose for the last time with his teammates more than it was about competing at the highest possible level.
"I didn't really care what happened that much, I just thought to myself that I'm just going to swing no matter what," Lavallee said. "And I was able to hit a home run so that was funny."
Lavallee said he is going to miss many of the guys on the team and the coaching staff because it was one the best he has ever had.
"I'm just really thankful for them because they helped get me to where I am today," Lavallee said. "Virgil [Hill] over the summer had me on a workout plan and is the one who got me stronger and more in shape coming into this season. Picketts helped me by just giving me the opportunity to show my skills and that opportunity is all I could ask for from a head coach."
Diego Harris said he is grateful to have gone through two years of Pierce and is honestly happy to have improved as a player.
"I'm definitely going to miss the team and being able to see everyone get better and progress as the season went on," Harris said. "Now that it's over I think I have grown a lot. I've definitely gained an understanding and developed a deeper love of baseball which I didn't have before."
Sean Moller said he appreciated and enjoyed the difficulties of playing in junior college because of both his teammates and the coaches.
"I was new coming down into this area and didn't know anyone, but the team welcomed me with wide open arms," Moller said. "Starting in the fall we would get to practice an hour or two early and get our work in. The coaches would come in on the weekends to practice hitting with me and really made themselves available outside the dedicated practice time to help me get better."
For Kristian Pagalidis the freshman catcher, sophomore day was a great way to say farewell to what he described as the leaders of the team.
"I'm gonna miss the sophomores they're a big part of this team and are just great leaders out here," Pagalidis said. "It's going to be different next year."
As far as what sophmore day meant to him and his teammates, Lavallee described it as one last time of being on the field together.
"For the whole team, it was kind of like one last hurrah."