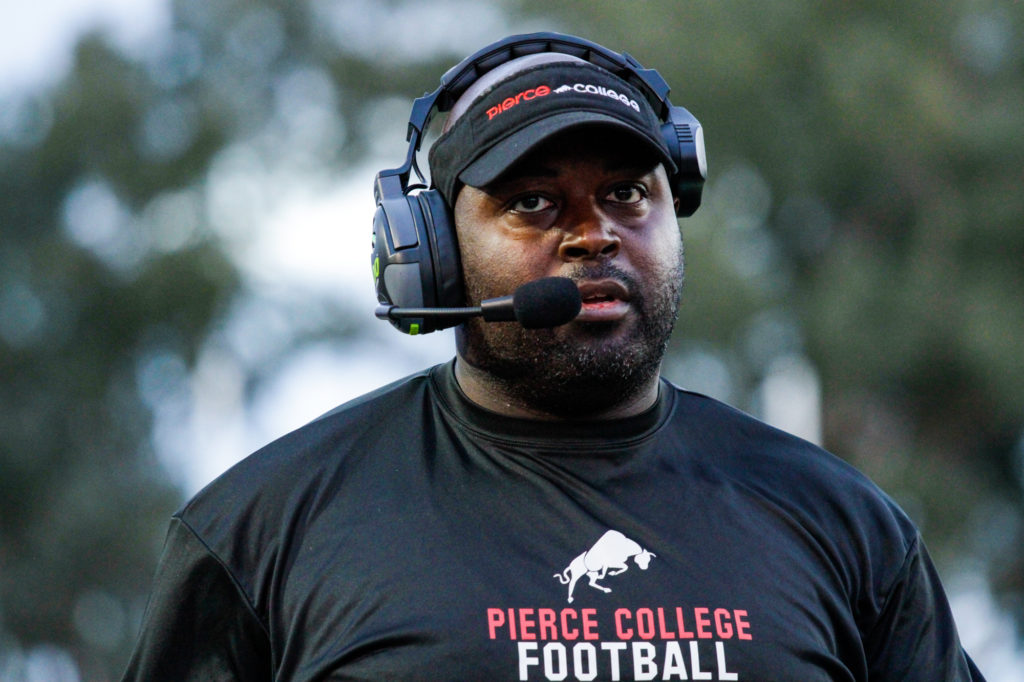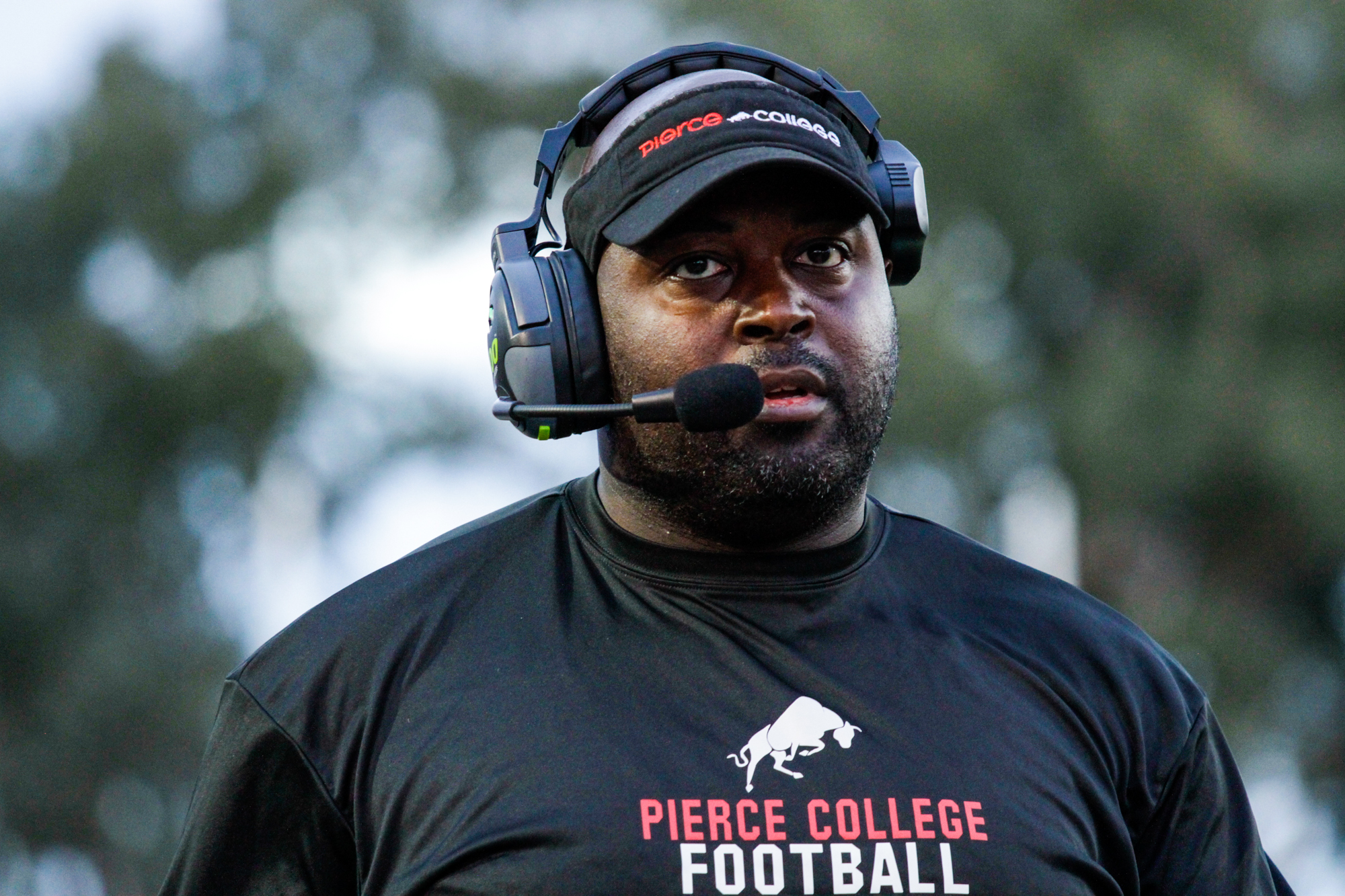 Update #4 (Nov. 6, 11:45 a.m.)
Pierce College President Alexis Montevirgen confirmed that the investigation is still going and has not provided any updates on it. 
"I don't want to provide any additional update at this time until the investigation has had a chance to proceed," Montevirgen said.
Update #3 (Oct. 25, 4:50 p.m.)
KPC Radio students took to campus and asked faculty and students about the internal investigation on Carlos Woods.
Update #2 (Oct. 10, 5:45 p.m.)
Head Coach Carlos Woods has been placed on temporary administrative leave, effective today, pending the outcome of the investigation, according to an email update from Pierce President Alexis Montevirgen.
"We hope to name an acting head coach for the football team within the next few days," Montevirgen said.
Update #1 (Oct. 10, 12:35 p.m.)
Montevirgen sent an email update to the faculty and staff of Pierce. It stated they are looking into the allegations and will keep them informed with additional information when available.
"Los Angeles Pierce College has a proud tradition of providing intercollegiate competitive sports opportunities for our students in accordance with the established policies and procedures of the Los Angeles Community College District and the California Community College Athletics Association," Montevirgen said.
"The health and safety of our students is a primary concern of the College, our Chancellor and the Board of Trustees. Any allegations concerning employee misconduct or issues involving student safety are taken very seriously and will be thoroughly reviewed."
——————————————————————————————————————————————
A formal investigation in the Pierce College athletic department is underway after some football players and staff have said Football Head Coach Carlos Woods has allowed four players to live on campus in the locker room, collected money for housing from players, allowed three ineligible players to compete in games and recruited out-of-state.
The investigation started after multiple complaints were filed, according to Dean of Student Services and Equity Genice Sarcedo-Magruder, who is the acting athletic director.
When asked about the complaints, Woods declined to comment.
Due to the sensitivity of this situation, some of the players from last season and this season who have confirmed the living conditions set in motion by Woods, asked that their names be kept out of this article. Those who remain unnamed, confirmed that at least four players were living in the locker room this semester after their housing had fallen through.
They also said last football season, there was a minimum of 30 players who resided together in an apartment building on De Soto Avenue and Vanowen Street. Some players living there said they were kicked out of the apartment due to Woods not paying the rent when he was said to have collected up to $300-$400 from some of the players.
Players who were at Pierce last year explained they slept stacked up in bunk beds and on cots in any available space in the apartment. Once they noticed eviction notices being left on their door, they decided to leave and fend for themselves. 
Jose Cordova, who no longer attends Pierce College due to the tension of the situation, agreed to go on record about his situation.
"Coach Woods told me that I was valid to move to L.A. from Orlando, Florida, and that my housing would be set up with other players coming in and returning athletes," Cordova said. "Woods told me that it would be four to five players in a three bedroom, and we would all split the bills and each pay $350 for rent – everything included."
He added that once he came to Pierce, it felt like Woods packed almost the whole team in a condo on De Soto Avenue.
"He promised actual living space, and it ended up being like a camp/jail with how many people were living in that house," Cordova said. "Lines Woods had crossed would be 30 guys in a three-bedroom and almost half of his recruits wouldn't pay rent and bills wouldn't be paid."
Cordova also explained that once they were told that they were being evicted, Woods would tell the players they would have until the end of the 2018 fall semester to live there, and then they would be on their own. At one point, Cordova said, he ended up homeless.
"A lot of us were out-of-state kids, stressing everyday if the water or power was going to get cut off or if our items would be outside the house because of the eviction," Cordova said. "The most stressful time I ever had. He truly crossed the line when I was figuring out housing, living in my car and couldn't show up to the first mandatory practices … and was kicked off the team and Hudl (a football highlight website)."
Once Cordova realized what was going on, he confronted Woods by text, to which the coach replied, "I feel it is best we go different directions." So Cordova decided it was time to tell the athletic director at the time, Moriah Van Norman.
Van Norman didn't confirm that she spoke with players regarding these violations, but did say she relayed every potential violation that was reported to the administration.
"This ordeal made me feel unwanted [along] with those who also stood up against Woods, and felt as if I came across the country to get screwed over financially, with the housing and school/sports," Cordova said. "I would tell people under him to not buy the lies and do not trust him with your money, don't have Woods make you feel like he is the man and has a say in where you go." 
Depending on the outcome of the investigation, Woods may be found in violation of multiple bylaws found in the California Community College Athletic Association Constitution & Bylaws handbook. Bylaw 2.15.2 C states "obtaining, securing, or soliciting of housing for a prospect/student-athlete that is not available to all students at the community college," and Bylaw 2.6.1 states "out-of-state recruiting is prohibited."
One of the players who did not want to be named confirmed that Woods flew to Florida in June to recruit for the football team.
In a secret recording given to the Roundup by one of the football players, Woods is heard telling some players to take a shower in the north gym at Pierce to cut down on a $3,000 water and power bill. He also talked to the players about getting their rent in and offering to call their parents for them to get the rent money. The recording also included discussions of who was responsible for the leases.
Alexis Montevirgen, who became President of Pierce on July 1, 2019, said he has yet to receive a formal report.
"So I'm waiting and I'm trying to remain impartial. I'm waiting for that type of report because I don't want to be biased by any hearsay at this point," Montevirgen said. "So right now I don't have any concrete information, but I do know that the dean (Sarcedo-Magruder) is on this and working on it, so I just look forward to receiving a full and comprehensive report on what the status is."
Sarcedo-Magruder said the focus is on making sure Pierce can take the appropriate steps to protect its student athletes. 
"The most important thing is making sure students are taken care of, because obviously if they're having trouble with housing, that probably means they're also having problems with hunger," Sarcedo-Magruder said. "Also, we need to remember that even though they are student athletes, they are students first, so it is important to make sure they have the academic resources that they need, and just be here for the students."
Former Athletic Director Bob Lofrano explained that it is probably time for those men to start thinking realistically now that this information has come to light.
"Either way it goes, that's a big no-no, that's not a hotel up there," Lofrano said. "I know just how hard it is and it isn't fair, but I would advise those boys to start considering about moving back home."
At his previous job in 2017, according to San Benito Newspaper (sanbenito.com), Woods left Gavilan College after he and another coach were placed on leave after accusations of recruiting and benefits violations were made against the Gavilan College football team, resulting in 17 players being dismissed.
The Roundup will continue to follow this story as new information emerges.