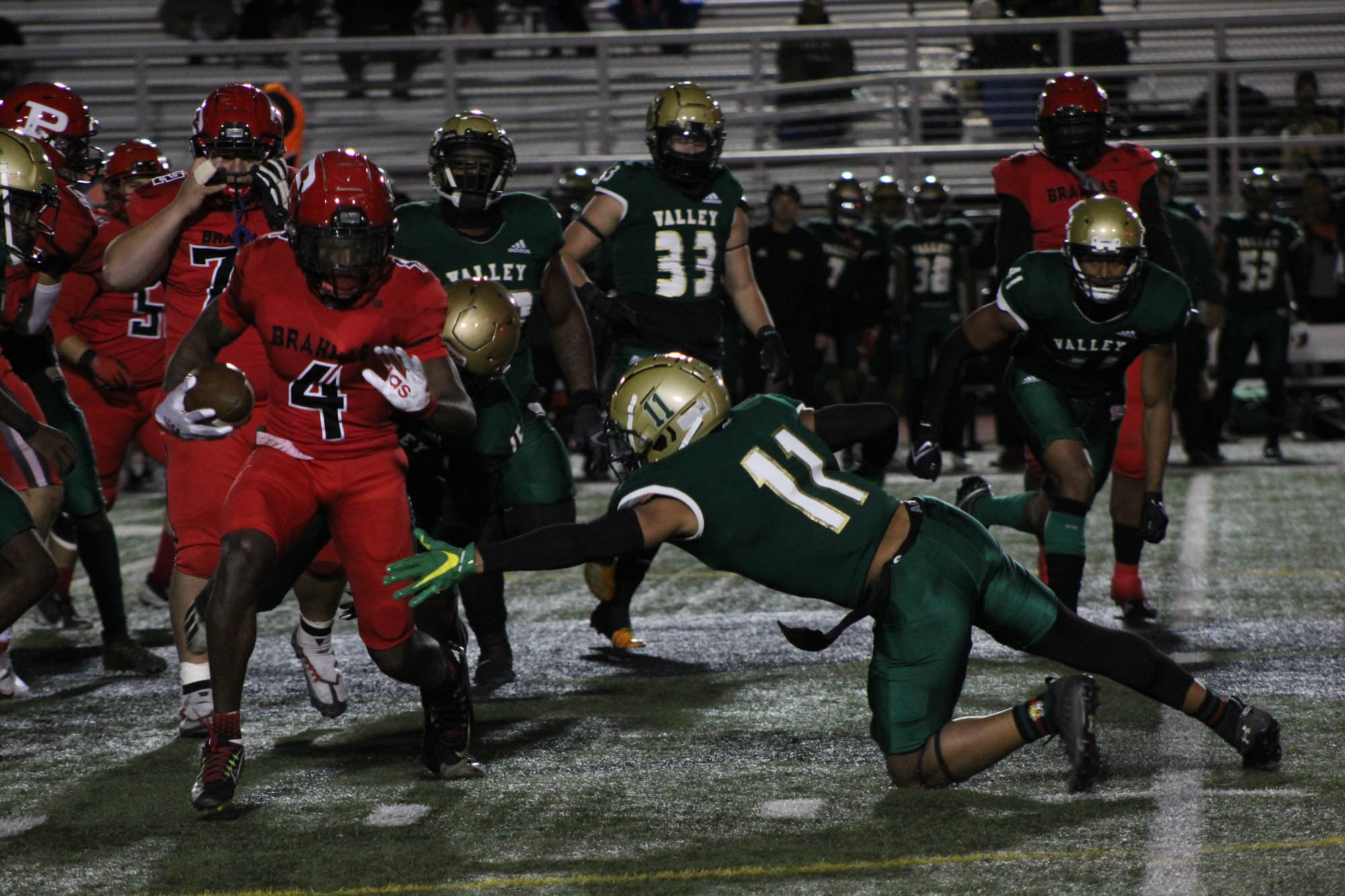 The Brahmas could not improve upon their performance on the field as they lost to LA Valley College in the rivalry game on Saturday with a final score of 36-8.
The half started off rocky as free safety Sergio Rivas returned only nine yards from a 46 yard kickoff.
The nine yard return wasn't the only thorn in Pierce's side as Valley scored a touchdown on a five-yard pass and a two point conversion with 3:53 left to go in the first quarter.
Pierce remained scoreless in the second quarter as Valley scored two more touchdowns and a safety to make the score 18-0.
The Brahmas weren't without its shining moments either, with wide receiver, free safety and kick returner Alex Vales catching a 14 yard pass from quarterback Matthew Abajian to score their only touchdown and two point conversion in the third quarter, making the score 24-8.
Head coach James Sims said that despite how he felt about the game, the real highlight was that Pierce finished the season compared to last year, when Valley only played six games.
"Last year, they didn't finish the season. They only played six games, and they forfeited a lot of games. This year, we finished the season. And we competed in all the games," Sims said. "So you got to take little steps when you're rebuilding."

Sims also said that the fighting among players for both Pierce and Valley was also an issue that needed to be addressed, and he spoke on his strategy in the event a fight happened.
"If a fight breaks out, or if anything happens, everybody stay on the sidelines," Sims said. "Our kids don't run out on the sideline when stuff like that happens."
Sims said that for the offseason and next year, his biggest plan is recruitment.
"We got a lot of kids coming in January," Sims said. "So we're looking forward to getting in the weight room in January and February with our new players and getting ready for next year."

Abajian expressed his disappointment in Saturday's game, but he felt that they fought as hard as they could.
"This is the one game we were supposed to come onto battle. With all our efforts. It was the last game," Abajian said. "We tried to do everything we can. We came up short, but we played a long, hard game."

Abajian said that his plans for offseason and next year were to get bigger and stronger as he trains in the weight room.
Linebackers coach Eldridge Salguero said while he saw a lot of effort and communication on the team, their biggest problem is trusting each other.
"I saw a lot of hustle. I saw a lot of effort, a team," Salguero said. "I saw them communicating. I think the way we could improve would be just trusting each other."

Salguero echoed Abajian and Sims's sentiment on his plans for offseason and next year with getting stronger along with recruitment, though he wants to focus on recruiting athletes that are local.
Salguero also stated that despite Pierce's late start in the season and the staff getting hired late, he won't let that stop him from recruiting the local kids.
"I think that since we started late, we got hired late," Salguero said. "I think that definitely set us back for this year, but we've been busting our butts off to local kids."
Pierce College's rivalry with LA Valley College began back in 1965, after the game in 1951 was canceled due to not having enough players on their roster. 
The Victory Bell has since traveled from college to college over the span of 56 years.

With the loss, the Brahmas finish 0-10 for the season and continue their drought of ringing the bell, a feature they have not seen since 2015.