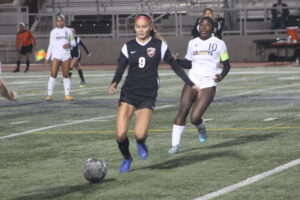 It wasn't meant to be for the soccer team as they saw their season come to an end at the hands of College of the Canyons.
Natalia Puccio's equalizer wasn't enough as the Cougars beat the Brahmas 2-1.
Head coach Adolfo Perez said the second goal proved costly for the team.
"You can't get beat at your near post," Perez said. I don't blame her [Samantha Perryman] because she had to fill in as goalie, but she should have done better."
Perryman had to play in goal for the majority of the season due to their projected starter being ineligible.
The game was close until the 40th minute when Giselle Gomez struck the ball from a distance giving Perryman no chance.
The Cougars took a 1-0 lead at the half.
In the 58th minute, Natalia Puccio tied the game for the Brahmas off a free kick. The ball went in untouched although Alexandra Meza was close to tapping it in.
Puccio was happy with her goal, but not of the result.
"I was happy that I contributed for the team, but we couldn't capitalize on it," Puccio said. 
Less than a minute later, the Cougars regained the lead through Rebekah Brooks. 
Pierce created multiple chances after, but they were unable to get the equalizer. 
Heidi Ricketts came the closest to scoring, but Kylie Yuzon came up with a big save.
The Brahmas had one final chance off a corner kick, but couldn't capitalize on it.
Perez said injuries played a role in the game.
"When you have multiple players hurt, it becomes difficult," Perez said. "Even if we were to lose, I would have wanted to go out with my best team possible." 
Meza said the players should be proud of overcoming a lot this season.
"We had a great season. We put in so much effort and I know the players that stay next year will do a good job," Meza said.
Pierce finishes the season 13-3-5 and preparations are underway for next year.